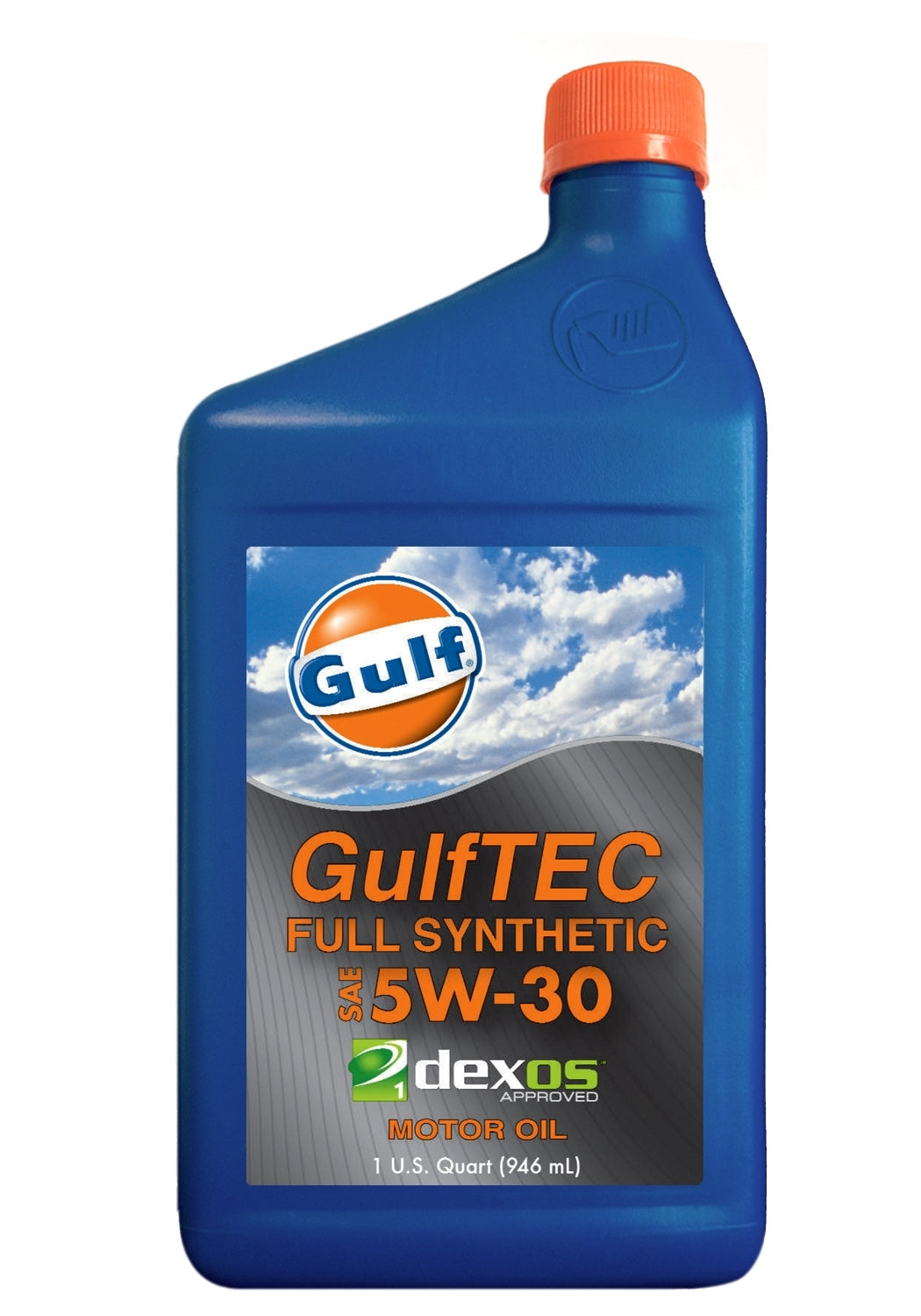 GulfTEC (dexos1 Gen 3) Synthetic 5W-30 QT
Premium, full synthetic gasoline engine lubricant specially formulated to meet the most demanding performance requirements outlined in dexos1™ Gen 3 specification for gasoline-fueled General Motors vehicles. GulfTEC® Full Synthetic provides enhanced vehicle performance as well as low speed preignition (LSPI) protection, particularly for small displacement turbo-charged engines. This new generation engine oil provides significant turbocharger and piston cleanliness and enhanced fuel efficiency.
Recommended for use in all gasoline-fueled GM vehicles. It is fully backward compatible making it an excellent choice for previous model year vehicles produced by General Motors. GulfTEC® Synthetic dexos1™ Gen 3 is recommended for gasoline-fueled and flex-fuel passenger cars, light duty trucks and sport utility vehicles including gasoline-electric hybrids where the OEM specifies SAE 0W-20, 5W-20 or 5W-30 engine oil. Suitable for use where: API SP, SN Plus, SN, SM, ILSAC GF-6, GF-5 and Chrysler MS-6395M, Ford M2C962-A1 (0W-20), Ford M2C960-A1 (5W-20) and Ford M2C961-A1 (5W-30) are specified – also, suitable for GM6094M and GM4718M (obsolete specifications).
If purchasing 4 or more fuel pails or if your order includes 1 or more kegs, drums, or IBC totes, your order will ship via LTL freight.
Using the specific item(s) in your order and their destination, our website compares shipping rates from over 20 different carriers in the background and presents you with the best, most cost-effective shipping option during checkout.
If you have any questions, concerns, or special circumstances for delivery, please don't hesitate to reach out to us at (281) 447-7200, sales@hyperfuels.com, or send us a message from our contact us page.